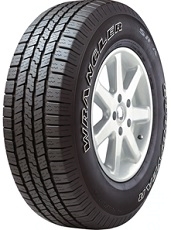 All-Season Highway Terrain Passenger Light Truck/SUV tire. Trusted for Original Equipment on Leading Pick-up Trucks.
Size: 255/70R16 | Article ID: 229828 | Manufacturer Code: 183601418
$200.99
/tire
Size: 255/70R16 109S
Item: 229828
Warranty: 50,000 miles
Estimated Subtotal:
$883.96
Savings - Free Installation Instantly On A Set Of 4 Goodyear Tires:
Valid 12/13/2021 - 3/31/2022-$80.00
Prices are valid as of 1/28/2022 and are subject to change.
Taxes and local fees not included.
Compare