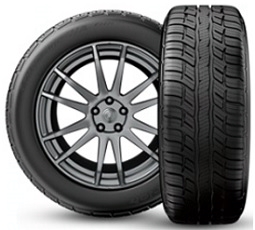 ADVANTAGE T/A SPORT LT
Size: 235/65R17 | Article ID: 112293 | Manufacturer Code: 22172
Estimated Subtotal:
$699.96
Prices are valid as of 7/12/2020 and are subject to change.
Taxes and local fees not included.
Compare
Print a quote to bring into a BJ's Tire Center for purchase and installation of tires and subject to change.
Next Day Appointment
May be Available at Your Club!
Subject to Club availability.
Features
3D active sipe technology
Advanced silica infused tread compounds
Aqua-Flume Technology - curvilinear groove network
Computer optimized footprint
Full depth tread
ETEC System
G-Wedge sidewall stabilizer
Continuous center rib
Carries the Three-Peak Mountain Snowflake (3PMSF) symbol
60,000 Mile Limited Treadwear Warranty (V Rated Tires)
65,000 Mile Limited Treadwear Warranty (T & H Rated Tires)
Benefits
Provides more biting edges for increased wet and light snow traction and stability for longer wear
Deliver outstanding grip year round
Designed to disperse water from under the contact patch
Manages tread wear evolution for longer life and a quiet ride
Maintain consistent performance and appearance throughout the life of the tire
Maintains optimal footprint shape during cornering and high speed situations
Stabilizes sidewall for crisp handling and a comfortable ride
Provides consistent steering response and road feel
Meets the required performance criteria for Use in Severe Snow Conditions
Tire Specifications
Tire Size
235/65R17
Load Rating
104
1984 lbs (900 kg) per tire
Speed Rating
T
118 mph (190 kph)
Sidewall
BSW
&nbsp
Load Capacity
1984
pounds (lbs)
Mileage Warranty
65,000
&nbsp
UTQG
740 B A
Treadwear: 740
Traction: B
Temperature: A
MSPN
22172
Item Number
112293
Question & Answer Content
Shipping & Returns Content