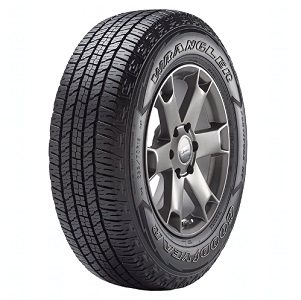 WRANGLER FORTITUDE HT
Size: 245/75R16 | Article ID: 229643 | Manufacturer Code: 179747622
Estimated Subtotal:
$1,031.96
Savings - Save $50 On A Set of 4 Goodyear Tires:-$50.00
Prices are valid as of 6/19/2021 and are subject to change.
Taxes and local fees not included.
Compare
Purchase tires online and schedule installation at a BJs Tire Center.
2 Business Day Appointment
May be Available at Your Club!
Subject to Club availability.
Features
Lower rolling resistance tread compound
Optimized tread pattern
Wide circumferential grooves and full-depth sipes
Stylish appearance
Enhanced tread design
65,000 mile/105,000 km Goodyear Limited Tread Life Warranty (Non-LT Sizes)
50,000 mile/80,000 km Goodyear Limited Tread Life Warranty (LT-Sizes)
Goodyear Highway Auto and Light Truck Tire Replacement Limited Warranty
30-Day Goodyear Pledge
Benefits
For enhanced fuel efficiency
Helps provide a quiet ride on the highway
For all-season traction and confident grip on wet, dry and snowy roads
Sidewall design and tread pattern projects a rugged appearance
Helps provide long tread life
Tire Specifications
| | | |
| --- | --- | --- |
| Tire Size | LT245/75R16 | |
| Load Rating | 120 | |
| Speed Rating | R | 106 mph (170 kph) |
| Sidewall | BSW | &nbsp |
| Load Range / Ply Rating | E | 10 |
| Load Capacity | 3042 | pounds (lbs) |
| Mileage Warranty | 50,000 | &nbsp |
| MSPN | 179747622 | |
| Item Number | 229643 | |
Question & Answer Content
Shipping & Returns Content