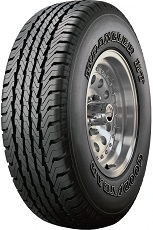 WRANGLER HT
Size: 225/75R16 | Article ID: 229872 | Manufacturer Code: 744830900
Estimated Subtotal:
$747.96
Savings - Save $80 On A Set Of Goodyear Tires:-$80.00
Savings - Save $40 On Installation When You Purchase 4 Goodyear Tires:-$40.00
Prices are valid as of 1/16/2021 and are subject to change.
Taxes and local fees not included.
Compare
Purchase tires online and schedule installation at a BJs Tire Center.
2 Business Day Appointment
May be Available at Your Club!
Subject to Club availability.
Features
Patented, all-season tread design
Circumferential channels
Solid center rib
Goodyear Highway Auto and Light Truck Tire Warranty
Benefits
Helps provide year-round traction
Offer dependable wet traction
Offers a smooth ride, long life and even treadwear
Tire Specifications
| | | |
| --- | --- | --- |
| Tire Size | LT225/75R16 | |
| Load Rating | 115/112 | |
| Speed Rating | Q | 100 mph (160 kph) |
| Sidewall | BSL | &nbsp |
| Load Range / Ply Rating | E | 10 |
| Load Capacity | 2680 | pounds (lbs) |
| MSPN | 744830900 | |
| Item Number | 229872 | |
Question & Answer Content
Shipping & Returns Content