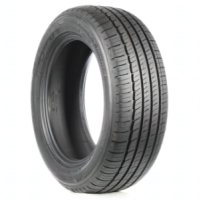 PRIMACY MXM4
Size: 235/60R18 | Article ID: 709348 | Manufacturer Code: 06696
Estimated Subtotal:
$1,079.96
Savings - Michelin Get $70 off:-$70.00
Savings - Michelin $40 Off Installation:-$40.00
Prices are valid as of 4/1/2020 and are subject to change.
Taxes and local fees not included.
Compare
Purchase tires online and schedule installation at a BJs Tire Center.
2 Business Day Appointment
May be Available at Your Club!
Subject to Club availability.
Features
European handling profile, featuring rounder shoulder
2-D Active Sipes, which are both variable width and full-depth
Michelin Comfort Control Technology™ uses computer-optimized design and precision manufacturing
55,000 Mile Manufacturer's Treadwear Limited Warranty - Primacy™ MXM4® Speed Rating : [H,V]
45,000 Mile Manufacturer's Treadwear Limited Warranty - Primacy™ MXM4® Speed Rating : [W]
30,000 Mile Manufacturer's Treadwear Limited Warranty - Primacy™ MXM4® Zero Pressure tires
Benefits
Progressive, predictable cornering
More confidence in rain or snow
Smooth, quiet ride
Meets the Michelin Green X standard for energy efficiency with reduced CO2 emissions
Tire Specifications
Tire Size
P235/60R18
Load Rating
102
1874 lbs (850 kg) per tire
Speed Rating
V
149 mph (240 kph)
Sidewall
BSW
&nbsp
Load Capacity
1874
pounds (lbs)
Mileage Warranty
55,000
&nbsp
UTQG
500 A A
Treadwear: 500
Traction: A
Temperature: A
MSPN
06696
Item Number
709348
Question & Answer Content
Shipping & Returns Content